Our Business Philosophy
The objective of our business is to provide the highest quality products and exceptional service to our customers. We hope you will enjoy visiting our shop and using our products as much as we enjoy providing them to you.
Our Employees
Hello to all our customers, friends and family! My name is Kelley Hanna along with our team of magnificent, highly experienced and talented stylist's.
A dream finally came true in June 2011. After a number of years working as a stylist, I was finally able to open my own salon. An incredible amount of work went into creating a warm, inviting and comfortable salon with a home town feeling. The shop was completely updated with all new fixtures and appliances to provide you a happy and enjoyable experience. If you are in our corner of Chesapeake please stop in and allow us to show off our new facility and provide you that pleasurable salon experience you deserve.
Amanda (Stylist), Alissa (Stylist) , Kelley Hanna (Owner/Stylist),
Linda (Receptionist), Allie (Stylist), Brittany (Stylist)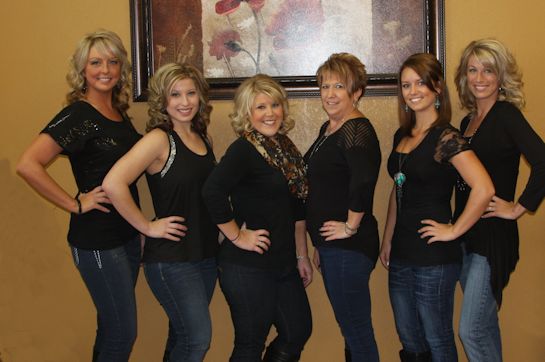 Our Company
We are a growing, woman owned, small business in the City of Chesapeake Va. We offer a quiet, clean and safe environment for all your hair and beauty services.
Our salon is a newly remodeled and up to date full service hair salon. We offer the best in services and high quality products to ensure your complete satisfaction for happy and healthy hair. Our staff are fully licensed and certified to perform a full range of services. Come in today and let us wow you!
Here is a picture of our shop.